On the move: Rail and vehicle construction, aviation technology
The climate protection policy ambitions of the Federal Government and the European Union to achieve savings targets/lowering of greenhouse gas emissions will enormously strengthen rail vehicle traffic across Europe in the future and give it a high priority in the creation of innovative mobility offers/the so-called mobility turnaround. In this context, the city of Görlitz is involved in future local projects and therefore sees the rail vehicle sector as an extremely important component for strengthening it as a business location in this overall context. As a traditional location for rail vehicle construction and testing, Görlitz has been the birthplace of many future-oriented new rail technologies of international importance. This is also what the traditional Bombardier plant stands for, recently celebrating 170 years of rail vehicle construction in Görlitz. Information on current developments at the Bombardier site in Görlitz
As part of industry development and funded by the Saxon state government, the RailAir association was founded in Görlitz in 2020 in order to network actively both locally and internationally for the development of future technologies in the rail vehicle sector.
This industry is actively supported by the economic development team at the Europastadt GörlitzZgorzelec GmbH, with the aim to develop a rail vehicle test center at the Niesky location as a project of the Saxon state government, within the framework of the structural development of Lusatia as a lignite region and the great history of the Görlitz area in rail vehicle technology/construction.
Görlitz also has a long tradition of equipping vehicles with fire protection technology (see the company profile). Aviation technology, which manufactures lightweight components for aircraft production, is new to the area.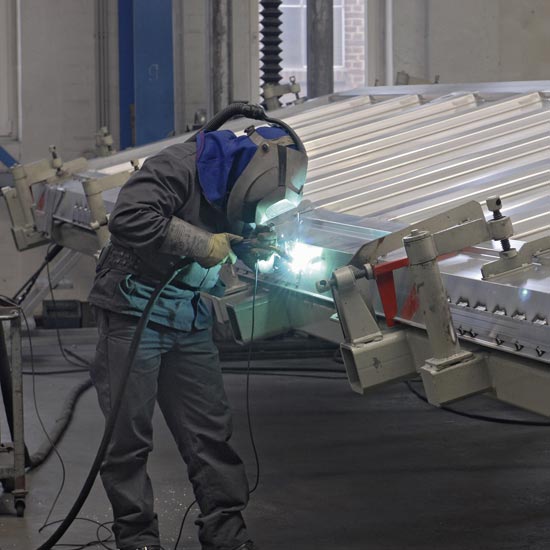 Selected companies
Aircraft Composite Sachsen GmbH: produces lightweight components for use in the Airbus newbuilding programs
Bombardier Transportation, global market leader in the rail transport industry, European competence center for the processing of stainless steels website
Brandschutztechnik Görlitz GmbH, production of firefighting and special vehicles, Europe-wide sales website
BSG Components GmbH: small parts, assemblies also in large batch sizes, wood, steel and aluminum – perfectly planned and calculated website
Ferchau Engineering GmbH: engineering services website
Kran-Service Hartmann GmbH: crane and vehicle construction, repair and other services website
Rondom Biegetechnik GmbH: bending of components for the production of seats for Bombardier and Recaro
TÜV Süd Rail GmbH: test system for rail vehicles website