Heavy Metal - Machine and Plant Construction in Görlitz
Görlitz mechanical and plant engineering is regarded as cutting-edge in the export and innovation sectors. The medium-sized mechanical and plant engineering sector in Görlitz manufactures complex products for the entire economy and recycles technologically sophisticated preliminary products. It reflects the entire range of industrial capabilities and is a key innovation driver in the areas of Industry 4.0, resource-saving environmental protection, and energy efficiency, among other things. Mechanical engineering is one of the most innovative industrial sectors.
Almost a quarter of all employees in the Neisse city work in this manufacturing sector. Siemens Energy is the flagship of the Görlitz
area as the world market leader in industrial steam turbine construction. The Görlitz plant, with a long tradition, today conducts research, development and production on site. Comprehensive information on current developments at the Siemens location in Görlitz.
Many small and medium-sized companies are also located here. The spectrum ranges from turbine construction to special machine and plant construction to metal and sheet metal processing and engineering. As a supplier, including for the aviation industry, many of the local companies maintain national and international sales and delivery relationships.
There are close cooperative relationships in the field of innovation-based research and development with local scientific institutions. Local educational institutions are precisely geared to the requirements of the industry with their engineering and skilled worker training, and guarantee good availability of skilled workers.
Network
VEMASinnovativ
Mechanical Engineering Network Saxony. VEMASinnovativ is a network of machine builders and serves as an open platform for technology transfer and for the exchange of knowledge and experience and for market expansion.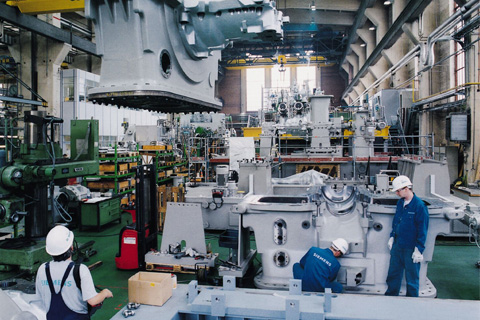 Selected enterprises in the region:
Siemens Energy: Lead location for Siemens industrial steam turbine development and innovation campus
BMS Stahlbau: highly complex large components for machine and plant engineering
G-S-D- Gerhard Schoch Druckgießtechnik Produktions GmbH: manufactures die casting machines, peripheral devices and wear parts for die casting machines website
G-Werk 5 GmbH: specialist in the mechanical processing of plastics and the assembly of complex assemblies for mechanical engineering website
KMI- Kraftwerke- und Maschinenanlagen Maintenance GmbH: maintenance, service and production of components for industrial plants of all kinds website
KSC Anlagenbau GmbH: manufacturing, delivery and assembly of steel construction elements website
Metallbau Schubert GmbH: construction of complete halls in steel construction including interior fittings website
MFV Maschinenbau GmbH: production of complex, ready-to-install components for general mechanical engineering, power plant construction, conveyor technology and wear technology website
Pla.to Technology GmbH: design and manufacture of special machines for recycling technology website
Schöpstal Maschinenbau GmbH: full-range supplier for mechanical engineering, plant construction and maintenance services website
TKG Turbinenkomponenten Görlitz GmbH: production of turbine blades, services for the metal processing industry website
TP-elbud GmbH: production of electrical switch cabinets
Werner Schweißtechnik GmbH & Co. KG: industrial service provider specializing in the repair of welding technology, combined with a technical wholesaler website