Retailing
Retailing without borders in the Europastadt Görlitz/Zgorzelec
Geographic situation / Transport connection
strong regional effect
connection to the regional transport network secures accessibility for the surrounding region
Allocation
strong concentration of regional important, large-area retailing companies at the northern fringe of the city
nearly comprehensive supply with food retailers within the city area
goods suited to the city centre are concentrated within the main shopping area
Suitability and variety of goods and types of businesses
above-average fit between businesses and retail space, resulting in amassed buying power
many large-area retailing businesses with varied assortment of goods
attractive mixture of different trades and types of businesses within the main shopping area (exeption: food)
Main figures for retail in the city centre:
total retail space: approx. 30,000 sqm
percentage of retail space: approx. 19 %
main shops: Straßburg-Passage, City-Center, Hertie
main shopping areas: lower Berliner Straße, Postplatz square, Marienplatz/Steinstraße square, Obermarkt square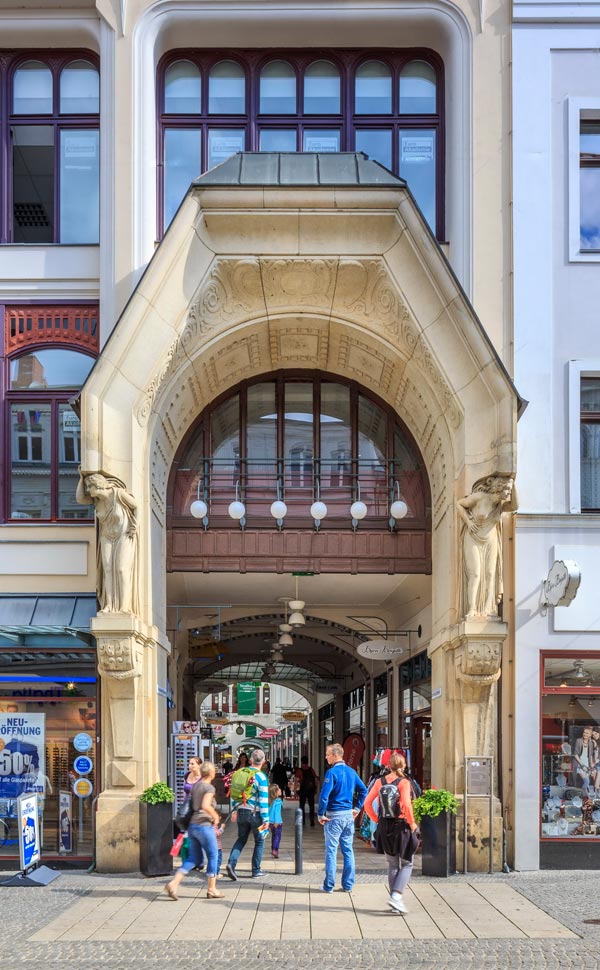 Shopping in Art Nouveau atmosphere:
The Straßburgpassage and from October 2015 the Art Nouveau-Department store, well known from the movie "The Grand Budapest Hotel". More informations about the department store and its reopening you can get here.
Main shoping-areas in the city:
Straßburg-Passage, City-Center
Berliner Straße, Postplatz, Marienplatz/Steinstraße, Obermarkt